Body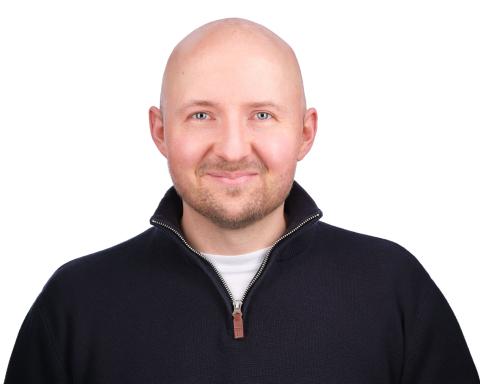 Marek Golebiewski joined us in January 2023, bringing web development experience in higher education and the private sector. His passion for PHP and Drupal shines through in his work, and he loves using his skills to help purpose-driven organisations.
What's your professional background?
I came to Scotland from Poland in 2007. My experience was mainly in casinos, so my wife and I got jobs doing the same in Edinburgh and on cruise ships.
At the end of 2016, some of my colleagues started studying, and I decided I needed a fresh challenge, too.
How did your web development journey begin?
I enrolled on a project management course at Edinburgh College in 2017. It had a web development module that sparked something inside me. 
I then studied web development for five years, which included a work placement in the University of Edinburgh's development team.
Tell us about your first experiences with Drupal
They used Drupal at my university placement to do similar things to Rohallion. The CMS was a good fit for their target user group because it enabled them to make changes quickly and easily without relying on a development team or external agency.
After completing my studies at Napier University, I got a part-time role working at an agency using Drupal and WordPress. In my experience, Drupal needs more advanced knowledge as a developer but provides greater flexibility.
How did your role at Rohallion come about?
I was keen to find a full-time position, and in September 2022, Duncan sent me a LinkedIn message about the Drupal Engineer opportunity. We had a mutual friend from my placement at Edinburgh University and met for a coffee. The job ticked all the right boxes and I couldn't wait to get stuck in.
What were your first impressions coming into the agency as a new starter?
I was grateful and pleasantly surprised when onboarding began before my official start date. Small gestures can make a big difference, and getting an invite to the team's Christmas lunch was a lovely touch.
Another thing that made me feel welcome was getting my laptop and other hardware in December. Having this in advance gave me enough time to install all the relevant software and test everything ahead of time. I immediately felt at ease because I already knew Duncan and had met our other Drupal Engineer, Chris, during my work placement.
Why is remote working important to you?
My first web development job involved a three-hour daily commute, four days a week. The long journeys made it difficult to share childcare responsibilities, such as taking my son to and from nursery.
Now when I finish for the day, I close my laptop and am ready to do things at home. As a result, my stress levels are lower, and I feel more relaxed, which helps me deliver better work for our clients.
In terms of communication, when I send a message to Chris or Duncan, I usually get a response within a couple of minutes. If I have a query on my code, I can call them and screen share to find a solution quickly. I've got zero distractions, and I'm able to get advice whenever I need it. 
How have you found our day-to-day processes and approach?
There are no wasted resources. Duncan automates as many processes as possible and constantly thinks about how to improve our workflow.
A good example is how we respond to support tickets. We take turns doing this and there's a seamless plan in place where the emails in any given week automatically go to the assigned person. All these small efficiencies add up over time.
Do you feel supported in your career?
It was clear from my first CPD meeting with Duncan he cares about my ambitions and progression. I'm more than just a payroll number to him.
He's not afraid to invest time and money in his team, whether it's new equipment, software or paid memberships to Drupal communities.
I'm addicted to learning as much as possible about web development, and I do a lot in my spare time, which benefits me and Rohallion. It's been a fantastic journey, from dealing cards to delivering Drupal websites.
I appreciate how lucky I am to be doing something I enjoy that makes a positive difference.
If you enjoyed this article, meet our other Drupal Engineer, Chris Wales.
Let's start a project together...
Simply fill in this form with your key details and we'll be in touch.